Bachelor Thesis
So, the thesis is printed and i now have to stop thinking about it all the time.
If you want to have a look at it, please get the thesis as a .PDF (right click + 'save as' to download) 
There is a presentation in the FH Aachen (Eupener str.) this Tuesday (Feb 17th) at 12:00 noon. It's open to the public, so come by if you can.
i think this diagram by Dan Saffer illustrates what we are dealing with here. it started with the idea to use a multi touch table to improve meetings in software development teams.
ABOUT
Hello, my name is Dominic Kennedy. This page is about the bachelor thesis i am currently writing, under the supervision of Prof. Dr.-Ing. Thomas Ritz and Dipl.-Designer Tim Bruysten at the Fachhochschule Aachen, Germany. The aim is to improve small group design meetings (2-6 people). It is a concept for a multi touch tabletop computer. Professors / Supervisors If you have anything to contribute, please use the comment form or contact me via email.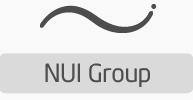 No public Twitter messages.
Permissions
"Resting Hand Gesture"
by
Dominic Kennedy