CONCEPT
meet.able facilitates easy presentation and sharing of information, documents, layouts, graphics, videos, charts, contact cards, calendar entries, etc. in meetings involving small groups of creative people.
In order to put this vision into effect, we propose a system, the meet.able, with the following attributes.
One central starting point: The Resting Hand Gesture 
The Resting Hand Gesture (RHG) is introduced here for the first time. It serves as a central starting point for everything the user wishes to do.  In a collaborative situation, where the participants stand around the table, menu bars (e.g. the task bar in windows or the Apple Dock) are a waste of space and inefficient to use.
The RHG works as follows:
1. Place hand flat on table (-> Hand recognition)
2. Context sensitive menu buttons grow from the tips of the users' fingers.  
3. The user may now select an option by tapping the corresponding button.
4. If the user lifts his hand and does not make any selection, the buttons persist for a short time, and then fade out. The optimal persist time would be subject to empirical usability testing.
5. The user can make the menu stay on screen by tapping twice in the same place:
 
Resting Hand Gesture – making it stay from Dominic Kennedy on Vimeo.
Obviously, it would be sensible to make frequently used menu items correspond to the same finger. This would provide some unification to support habit forming. For example, the search button, which would provide the user with an on-screen keyboard and a search box similar to apple's spotlight feature, should always appear from the index finger.  
Tabletop territoriality
Current systems for supporting collaborative meetings are inflexible and don't adapt well to sudden changes in modes of interaction (Anthony Tang, 2006, CHI '06: Proceedings of the SIGCHI conference on Human Factors in computing systems). The meet.able will support flexible switching between single and multi user workspaces. It should, therefore, also be able to differentiate between users.
Task switching
meet.able must allow users to change tasks effortlessly – from mind mapping, to sketching, taking notes to sorting documents and graphics.
Bridging the physical and digital worlds
What we mean by this is the seamless integration of paper and digital documents as well as the recognition of physical objects such as mobile phones, visiting cards, etc. An example of this functionality is the 'grab gesture' in the video.

Resting Hand Gesture – Grab from Dominic Kennedy on Vimeo.
 
Human factors
The technology must not disrupt normal social processes.
Establishing a common understanding
By a common understanding we mean both a shared vocabulary as well as clarity as to the goals of the meeting and the way they are to be achieved. This is essential to the success of any meeting. Design language and terminology can differ significantly between people from different backgrounds.
Solutions include the availability of a glossary, possibly one created 'on the fly', as well as an "I understood this" button.
Make notes any where (on the table), any time
Participants in meetings have a basic need to make notes. The meet.able must support this requirement by allowing the user to write both directly on the table as well as on their own paper. These notes should, if the author so wishes be accessible to other group members.
Solutions include the Anoto-based technology and virtual keyboards. The latter are scalable, can be individually customized and can provide haptic feedback (as in the new blackberry screen). 
Audio annotations are also feasible.
User recognition
A possibility opened by the pen technology is that of direct user recognition. Instead of 'logging in' one way or another, each user could use a pen marked uniquely in some way – each with an individual colour which would correlate with actions on the tabletop (See the grab action in the video).
Intuitive User Interface
The interface should have a likeable and inviting design, with animation where it makes sense and appropriate button response times. Actuating buttons or gestures should be met with audible or visual feedback to the user. [For additional features see "The Humane Interface", Jef Raskin, Addison-Wesley, 2000]
Information retrieval from anywhere
A search gesture can be used to invoke a search on a word, or to open a search box. Searches can be carried out in the local network and/or the web using tools such as Spotlight and Google together.
ABOUT
Hello, my name is Dominic Kennedy. This page is about the bachelor thesis i am currently writing, under the supervision of Prof. Dr.-Ing. Thomas Ritz and Dipl.-Designer Tim Bruysten at the Fachhochschule Aachen, Germany. The aim is to improve small group design meetings (2-6 people). It is a concept for a multi touch tabletop computer. Professors / Supervisors If you have anything to contribute, please use the comment form or contact me via email.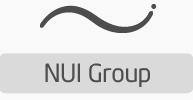 No public Twitter messages.
Permissions
"Resting Hand Gesture"
by
Dominic Kennedy