CONTEXT
Interactive tabletop screens will soon be in common use.
Amongst other things they will offer new possibilities for presenting, sharing and organizing ideas during meetings. On this page you will find a description of the scenario that we chose to illustrate the meet.able concept. We also list, as a set of theses, the desirable properties that the meet.able should and can possess. 
SCENARIO
Our scenario shown in the video exemplifies a meeting of people involved in software & website development. The meeting takes place at a large, multi touch table.                  
The participants include a project manager, a concepter, a software developer and a designer. They meet around a large multi-touch table and bring with them paper notebooks, sketches, graphics, scrap paper and mobile devices. 
New, creative ideas are seldom generated during meetings. More commonly, they arise in other, usually much less formal contexts. Meetings are for presenting and discussing ideas and coordinating group activities. The meet.able is conceived to facilitate just such tasks.
ABOUT
Hello, my name is Dominic Kennedy. This page is about the bachelor thesis i am currently writing, under the supervision of Prof. Dr.-Ing. Thomas Ritz and Dipl.-Designer Tim Bruysten at the Fachhochschule Aachen, Germany. The aim is to improve small group design meetings (2-6 people). It is a concept for a multi touch tabletop computer. Professors / Supervisors If you have anything to contribute, please use the comment form or contact me via email.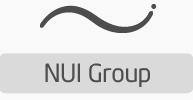 No public Twitter messages.
Permissions
"Resting Hand Gesture"
by
Dominic Kennedy