ABSTRACT
meet.able is a concept for an interactive table to bridge the digital and physical worlds in meetings. It demonstrates what devices like this should be capable of and how they can make meetings more effective – and more fun – than conventional ones.               
The scenario we use as an example takes a meeting of creative people involved in software & website development. The participants include a project manager, a concepter, a software developer and a designer. They meet around a large multi-touch table and bring with them paper notebooks, sketches, graphics, scrap paper and mobile devices. 
Meet.able supports all the most significant user behaviours observed during meetings. These include flexible switching between single and multi-user working spaces, the ubiquitous use of pencil and paper (even when the paper is digital), and the exchange of planning data for future events, calendar entries and milestones.
A User-friendly, or 'humane' interface that does not disrupt social interaction is essential. We therefore introduce the 'Resting Hand Gesture', which serves as a central starting point for each user. The User merely has to lay his hand flat on the screen to invoke command buttons at his fingertips.
Interactive multi touch tabletop computers will soon be in common use. Amongst other things they will offer new possibilities for presenting, sharing and organizing ideas during meetings. The concept behind meet.able explores one possible way to implement a multi touch tabletop computer in the given context.
The feedback to the video on the main page should serve as a basic means of evaluating the concept. The video only portrays the most significant features of the table. A more comprehensive description of the concept will be published – in the form of a bachelor thesis – at the beginning of February 2009.
ABOUT
Hello, my name is Dominic Kennedy. This page is about the bachelor thesis i am currently writing, under the supervision of Prof. Dr.-Ing. Thomas Ritz and Dipl.-Designer Tim Bruysten at the Fachhochschule Aachen, Germany. The aim is to improve small group design meetings (2-6 people). It is a concept for a multi touch tabletop computer. Professors / Supervisors If you have anything to contribute, please use the comment form or contact me via email.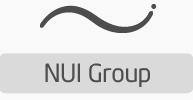 No public Twitter messages.
Permissions
"Resting Hand Gesture"
by
Dominic Kennedy