SCRAPBOOK
Two parts we could not visualize in the video were the agenda and the protocol. Here are some thoughts concerning these two points:
The agenda
Presentations and topics to be discussed should, as is now usual, be sent to the moderator prior to the meeting. The moderator decides what is to be discussed, sets priorities and defines the goals of the meeting.
The moderator can document who is present by clicking on pictures of them. This information is then added to the ongoing protocol.
The protocol
Writing a protocol is often onerous and time-consuming. Some ways in which technology in the meet.able might help are outlined below.
After the meeting a protocol of the decisions can be made immediately available to all the participants.
agenda could be a starting point for the protocol, then continue with activities throughout the meeting.
Capture and "Translate" deictic (or indexical – here, I, we, now…) references made during the meeting for later use.
Use Microphones and digital pen-input to record actions. Also, cameras could be used to record gestures (e.g. Pointing to a diagram on a flip chart). Redundant information can help to make sense of these deictic references (Usually, notes correspond to spoken words). 
Place all actions on a timeline. This helps to keep information in chronological order and put together notes and audio to reveal information from redundancy.
Bluetooth, RFID, W-Lan to synchronize with mobile devices
The protocol should be individually crafted for each user: for instance, the designer should only get information relevant to him ( his next steps and deadline, design-templates, images needed…); theproject manager should get the big picture, and so on…
This might be possible through semantic filtering or be manually assigned by the moderator.
An Attempt to sort things out…
since i can't wrap my mind around all the technology, interaction possibilities, social collaboration dynamics, and everything else that now, in my head, is all connected to the task of improving meetings, here is a Problems vs Options-Diagram:
You will have to use the magnifier… not an optimal visualisation of the data, but it's here to serve a purpose.
After doing this for a while, one thing became clear: this chart could go on forever. the possibilities in technology are endless and the pace at which even more of it becomes available is too quick to keep up with.
I think it's time to forget all the technical options and start thinking about the actual situation in the meeting again. i should come up with ten claims stating clearly defined problems the participants in the meeting are faced with.
Observation of a meeting in an architecture company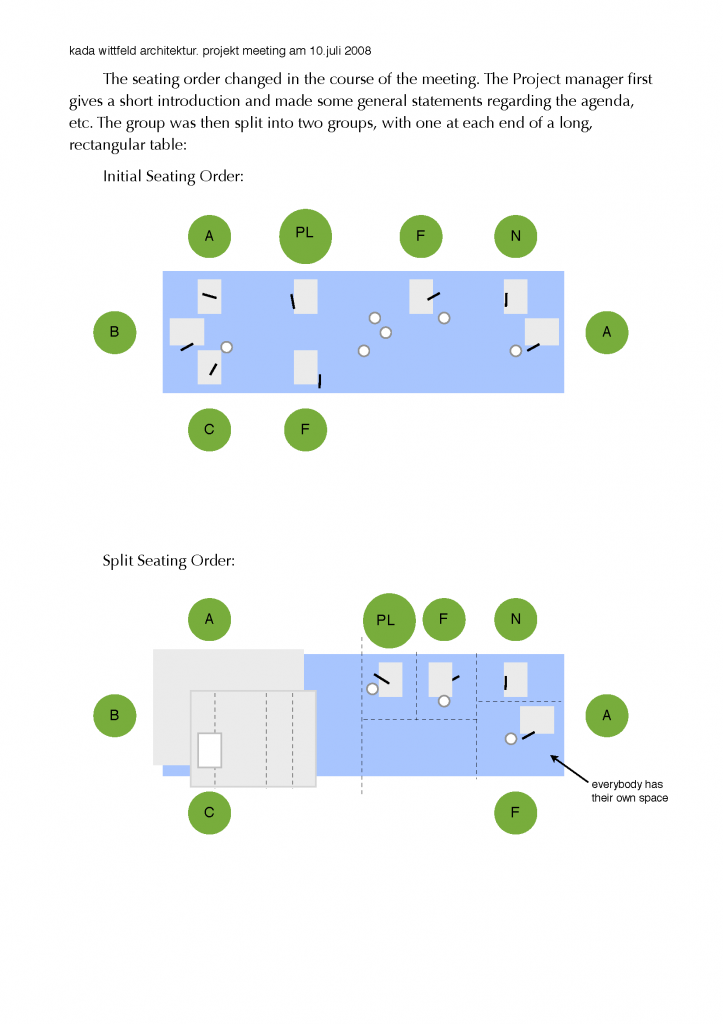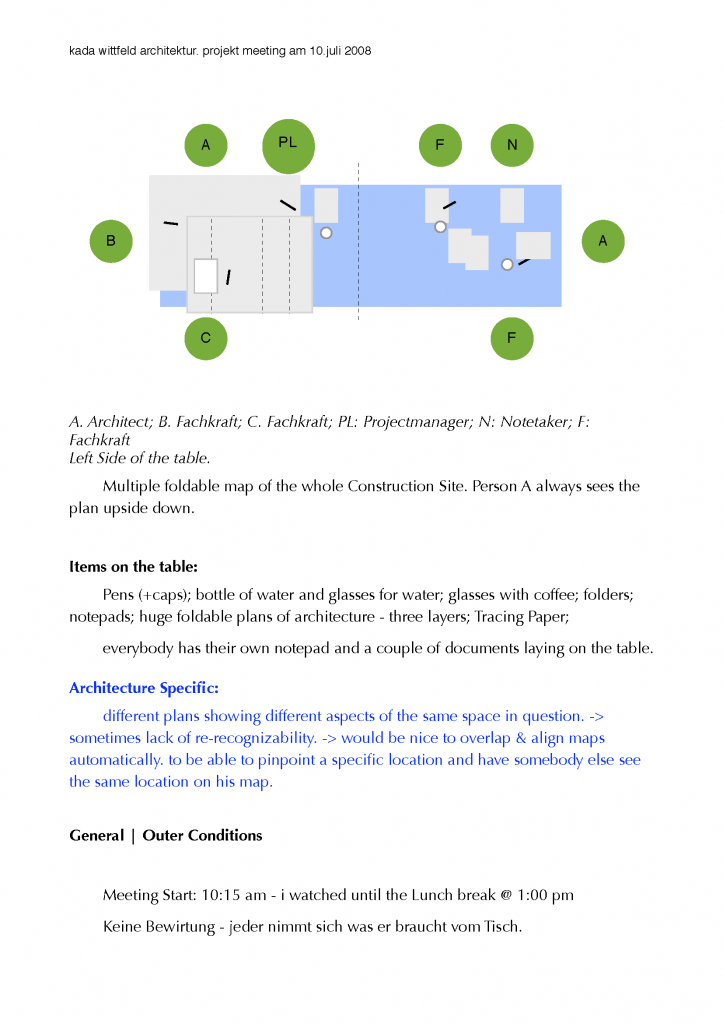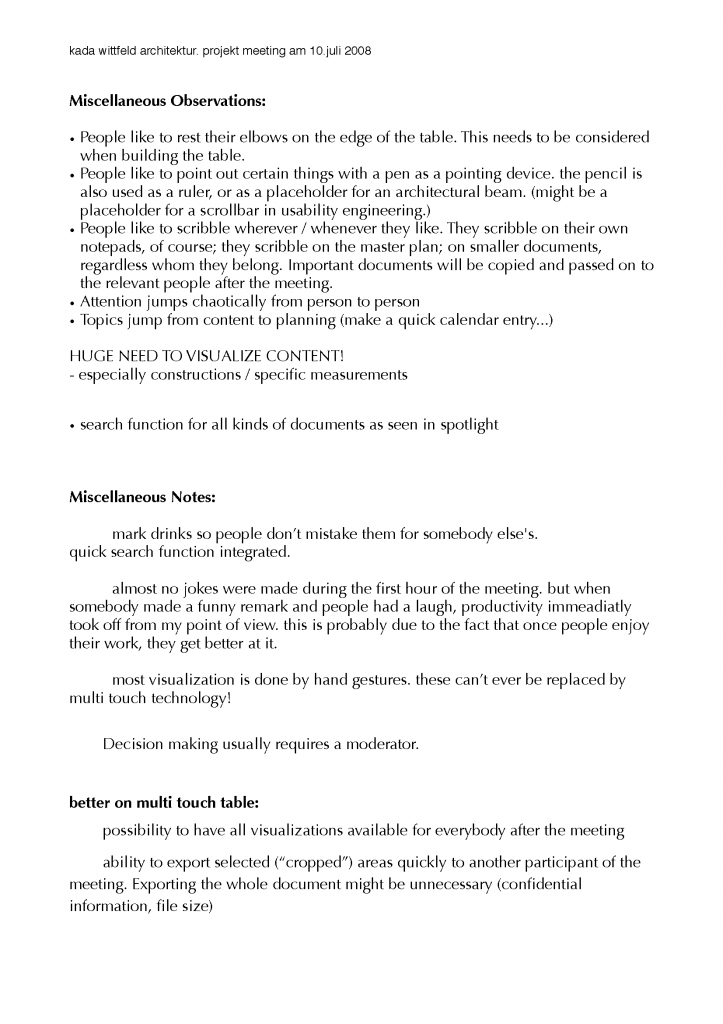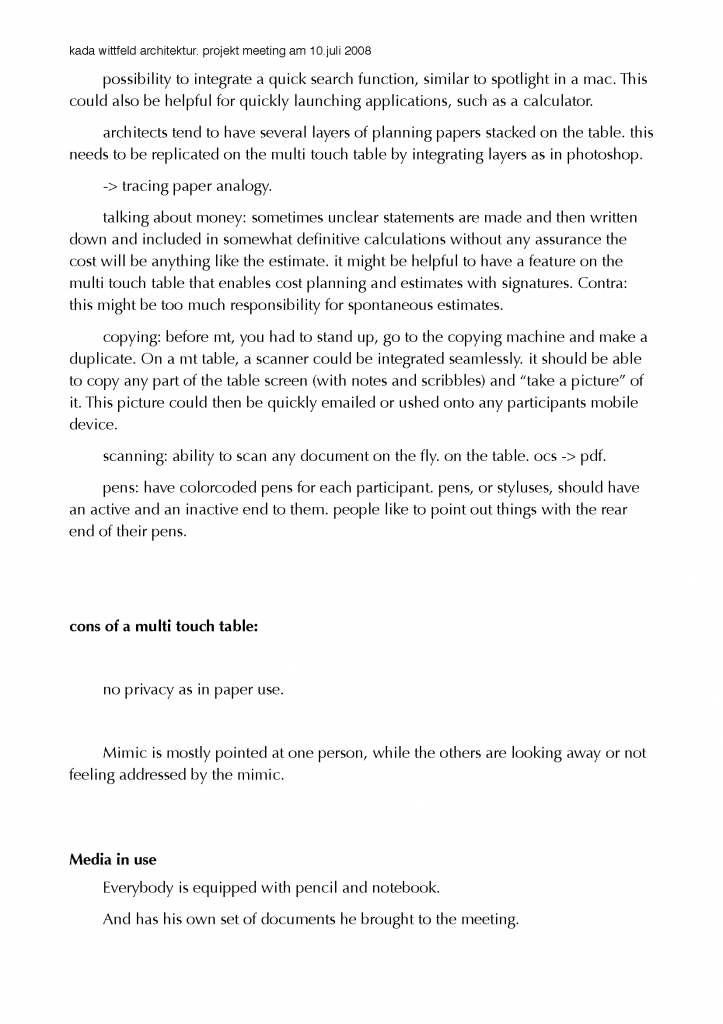 Leave a comment
ABOUT
Hello, my name is Dominic Kennedy. This page is about the bachelor thesis i am currently writing, under the supervision of Prof. Dr.-Ing. Thomas Ritz and Dipl.-Designer Tim Bruysten at the Fachhochschule Aachen, Germany. The aim is to improve small group design meetings (2-6 people). It is a concept for a multi touch tabletop computer. Professors / Supervisors If you have anything to contribute, please use the comment form or contact me via email.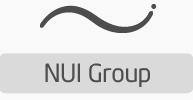 No public Twitter messages.
Permissions
"Resting Hand Gesture"
by
Dominic Kennedy